ChessKid.com's Curriculum!
UPDATE: August 21st, 2015.
ChessKid is pleased to offer the world's first chess curriculum vertically aligned to meet Common Core State Standards. The curriculum is the only one of its kind, and is for use by educators both within the traditional classroom environment, as well as by professional chess coaches in after-school clubs / programs. Even better news? It's now completely FREE!
At the heart of the ideals of HOT (Higher Order Thinking) and Bloom's Taxonomy is the goal to improve every child's cognitive development and critical thinking skills. No game or sport marries itself more naturally to these missions better than chess. Inherent in the game of chess is the demand that a student or player remember what he or she has learned at the board, understand and then apply the proper approach to the repeating tactical and positional patterns present, and then use that knowledge to properly analyze, evaluate, and calculate their way to a victory.
Download the Summary of Standards Covered in the ChessKid Curriculum
---
Chess has always spoken the language of Bloom's Taxonomy and Higher Order Thinking, and we help bring this to life with our original and comprehensive curriculum. Included in the full version teachers will find:
Download Your FREE Sample Today!
Essential Questions with every chess diagram and concept taught
Classroom Activities and Practice Pages included to improve practical application of the target concepts taught in each lesson
Full Appendix of all CCSS ELA standards met
Multiple Pacing Guides designed with flexibility to work well with any school district or even Homeschool environment
and more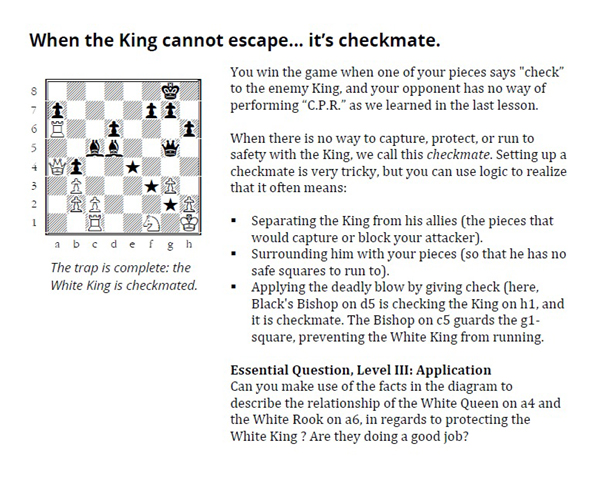 To receive our full curriculum, please contact Michelle Martinez by sending an email to [email protected], or contact ChessKid Support. ChessKid.com's Curriculum is free for use by schools and may not be redistributed in any way for commercial use.

Download Your FREE Sample Today!
---
Still available and free to all members is our first version, and non CCSS aligned curriculum below.

Created by International Master Daniel Rensch with the help of other ChessKid contributors, our free curriculum includes a wealth of learning materials addressing all aspects of the game, and is organized to maximize effective learning and retention.
Each section includes diagrams, work-sheets and "mini-games" to ensure that vital concepts are instilled through practice. We also include tips and advice for the teacher, coach or parent. Of course, the whole experience is designed to be FUN!
This curriculum is suitable for both classroom and one-on-one instruction, and is written to be accessible even if the instructor or parent is relatively new to chess. (You and your child can learn together!)
Download the ChessKid Curriculum Now!
Happy coaching! Please send requests to [email protected], or contact ChessKid Support.