Advice from Youngest Master in US History
This is Christopher Yoo.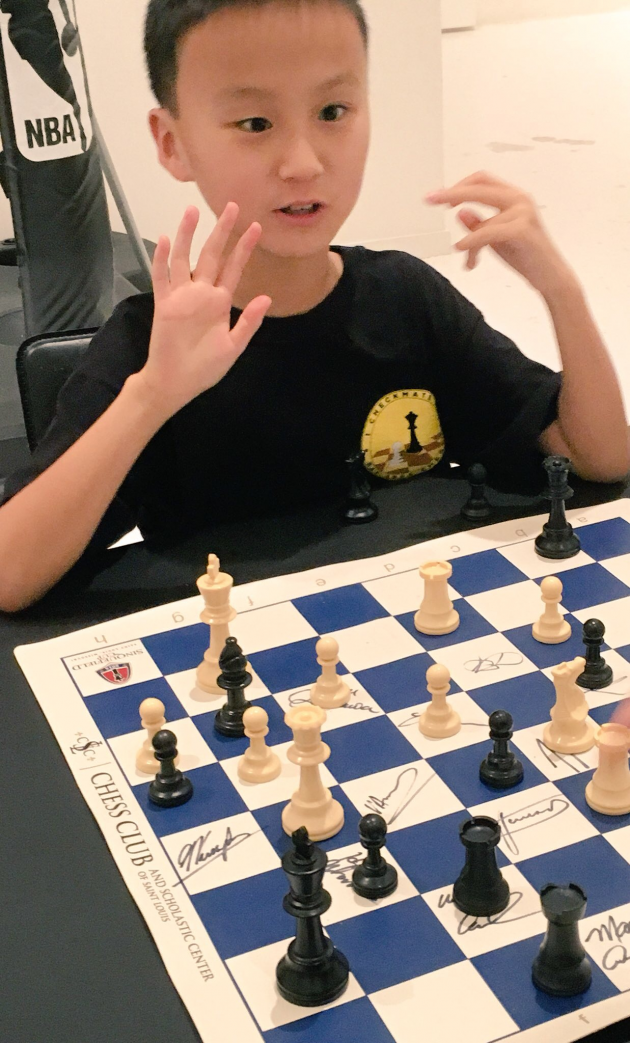 The Californian is now in the record books.
He looks like an ordinary kid, just like every other ChessKid, but he has big news.
Christopher is now the youngest master in American history at nine years old. He broke Max Lu's record by an amazing TWO DAYS! Talk about close! Now, he shall be NM Christopher Yoo.
Former youngest master in U.S. history, NM Max Lu
Christopher is someone all ChessKids can look up to. He is friendly, loves playing different chess apps, but he is also extremely focused when he starts playing chess. I was able to interview Christopher who told me all the little secrets to his success, which I will now impart to you all.
Like all players, he did not start off magically good at chess.
VS: How did you first start playing chess?
Christopher: I started off with after school chess. But I still couldn't move the knight and bishop so my dad helped me learn the rest.
Christopher clearly struggled to learn how to move the pieces. I mean we've all been there at first. I think it's also important to remember his dad helping him. I'm sure many of you have parents that help you with your chess or at least support your chess progress. It's never too late to start and keep going, either. For this, I cite when Christopher first started to play chess:
VS: When did you first start playing? Did you think you would break this record or make it this far?
Christopher: Three years, two months ago. Not when I started chess, but after a year I kind of thought I might.
That's not so long ago. Christopher shows us that you can improve any time as long as you give it time. You can also dream big and recognize that you are making progress.
Christopher (right) plays bughouse at the U.S. Chess School (also pictured, Nate Shuman).
Here in our interview was where Christopher was starting to drop some secrets! This is a secret that Christopher doesn't need to whisper:
VS: How has ChessKid helped you to become a better player? Do you use it often? What do you like best about it?
Christopher: It's helped me a bit. I did its tactics and watched advanced ChessKid videos. I used to use it often, but not much anymore because I got too strong. What I like best about Chesskid.com is it's a good kid-friendly site. (Editorial note: ChessKid is recommended for kids up to about 1600, and Christopher has passed that of course!)
Soon-to-be master Christopher Yoo played White against the boy he took the record from, NM Max Lu, in this U.S. Chess School blitz tournament!
No doubt ChessKid has the capabilities to help you improve with an excellent puzzles system, many videos made in a sequential "levels" order, and other fun features. Just using ChessKid is unfortunately not all it takes, though. You should also have a winning attitude and determination! Christopher demonstrates that you need confidence and passion to succeed in chess.
VS: Did you ever want to give up?
Christopher: No, maybe not until I'm 110.
Christopher continued to show his confidence when I asked:
VS: What are your future goals?
Christopher: To become world champion.
Of course, Christopher also has many chess players he looks up to.
VS: Who are your chess heroes?
Christopher: Magnus Carlsen, Bobby Fischer, Garry Kasparov, and Mikhail Tal.
It's important to find your chess heroes and see how they got better at chess.
Christopher playing bughouse with partner Nate Shuman.
For fun, I asked Christopher:
VS: What do you like about chess?
Christopher: I like the geometry of it. I like the beauty of the game. I like the tactics.
Eric Yuhan Li (left) and Christopher play at the 2016 World Chess Championship.
We all like different aspects of chess. I also love doing tactics. Finally, I have Christopher's last piece of advice for all the ChessKids of the world:
Christopher: Start off with tactics and when you get to like 1500, do some positional chess…[just] a little bit though.